Discrete, removable braces that get fantastic results
Invisalign are clear plastic 'aligners' that you wear over your teeth.
They can be used on even the most complex cases, and yet when on they're barely visible - you'd usually need to tell people you were wearing them for them to notice!
Our customers love them because they're removable - meaning you can play sport, eat and brush your teeth without worrying about your braces.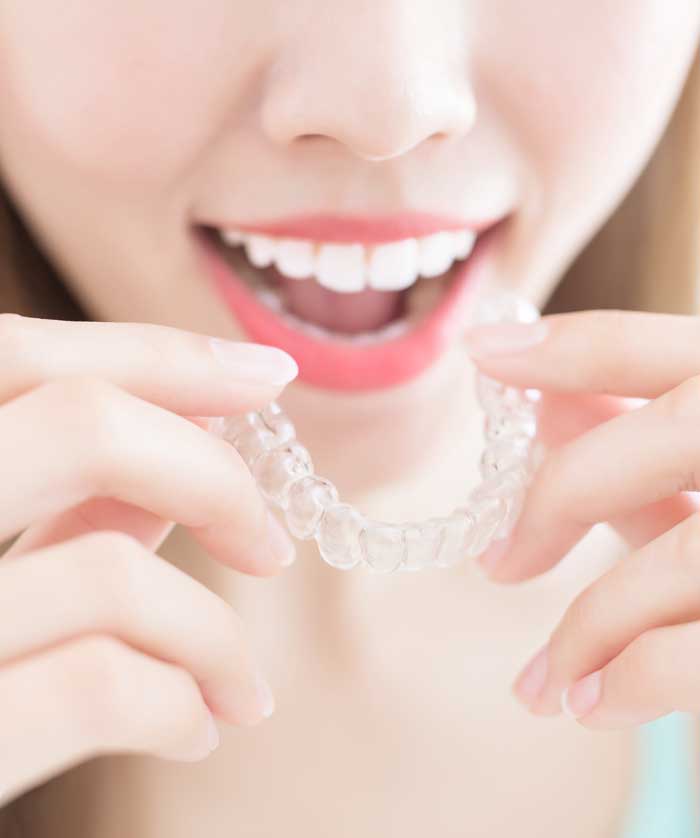 Invisalign aligners are worn over your teeth, and are changed every two weeks as your teeth adjust, to move them into the desired position.
Our specialist, James Davies, has been awarded Platinum status by Invisalign, recognising him and his team as one of Wales' leading and most experienced practitioners of this cutting edge system.
Although Invisalign is commonly used for some simple orthodontic treatments, James' expertise means that they can be used to get great results in even the most complex of cases.
Because they're removable, Invisalign aligners are easy to keep clean, which also makes keeping your teeth clean throughout your treatment straightforward too. It also gives you more freedom with food - as, unlike with fixed braces, you won't need to avoid certain foods.
They're extremely popular with our customers because they can be taken out when necessary - really useful for activities like singing and public speaking - and yet when you are wearing them, most people won't even notice.
Come and have a chat with James to find out more about how Invisalign can work for you.
Looking for NHS treatment?
We can help you find ways to fast-track your treatment.
Come and talk to us and we can guide you through your options.